So, I took some pictures of our home this week, and I thought it would be cool to share them with you all!! This is a topic I could talk about for hours, so its a pretty lengthy post... Grab yourself a glass of wine, find a comfy seat on the couch, and get ready to read all about mine and Blake's adventures renovating houses, and my love for decorating them!!
Some of you may know that Blake and I are really into buying fixer-uppers, and "flipping" them! Although, our current house wasn't quite the disaster you think of when you hear the term "fixer-upper," it still needed a little bit of a Demure upgrade ;) Our first fixer-upper was an absolute GUT!! We replaced EVERYTHING and made it AMAZING (if I do say so myself)! Luckily, our current house wasn't that bad off to start with... but I still did my *thang*!! As soon as I walked in, I immediately knew what I needed to change to make it not only more aesthetically pleasing, but to make it more functional as well!
I'm actually going to share both homes with you today! Even though I like our current house the most, I am still so stinking proud of what we did with the first one!! It was a foreclosure that my parents bought for $35K and then put $20K more into it to fix it up... All while planning and paying for our wedding, OMG!! And even though we did still purchase it back from them a few months later, it was still THE BEST gift Blake and I have ever received!! They gifted us with a home that had $25K in equity the moment we stepped foot in it after we returned from our honeymoon!!! What an amazing blessing it was to have that in our names at 22 years old!!! Check it out below:
First House: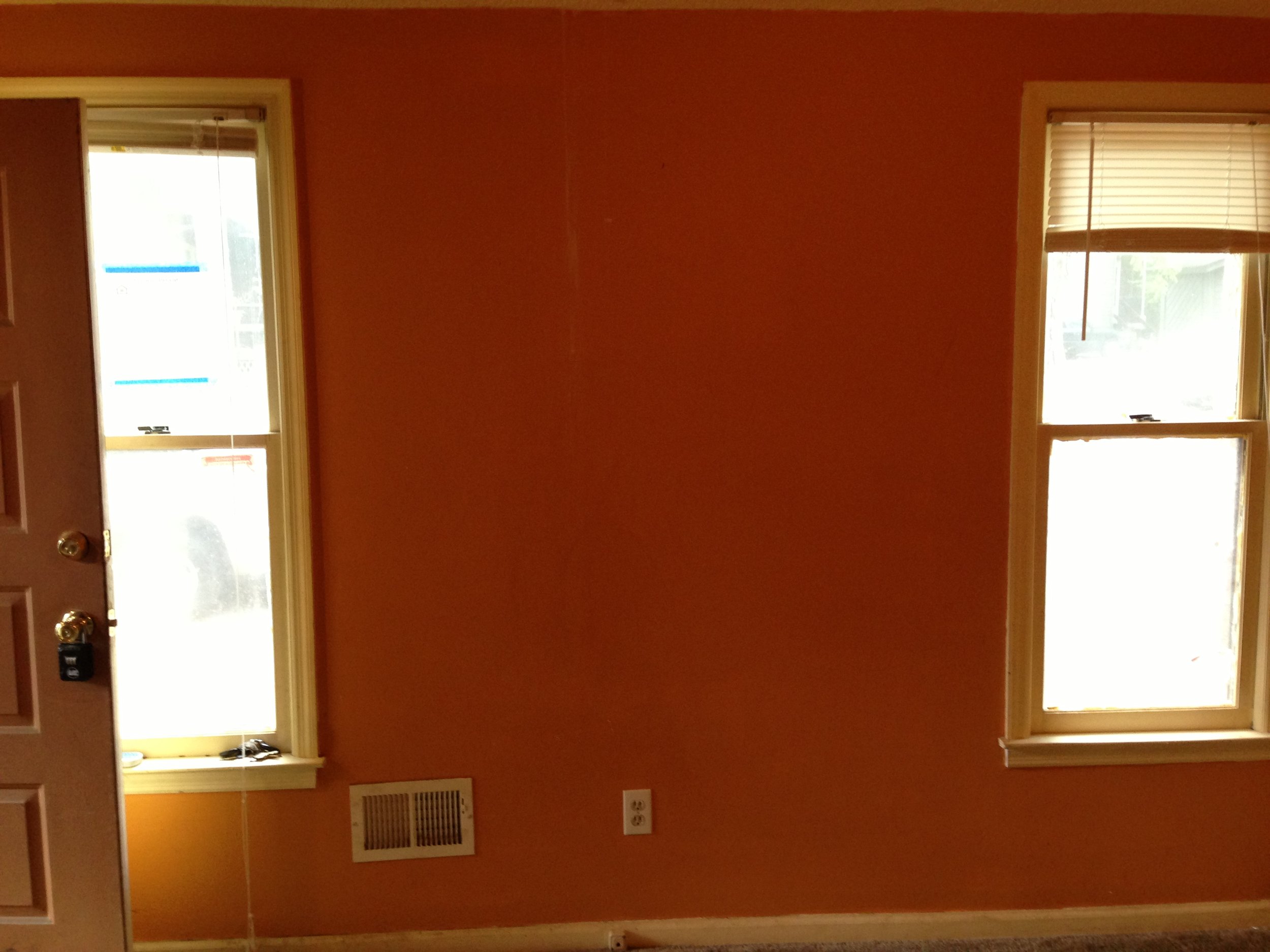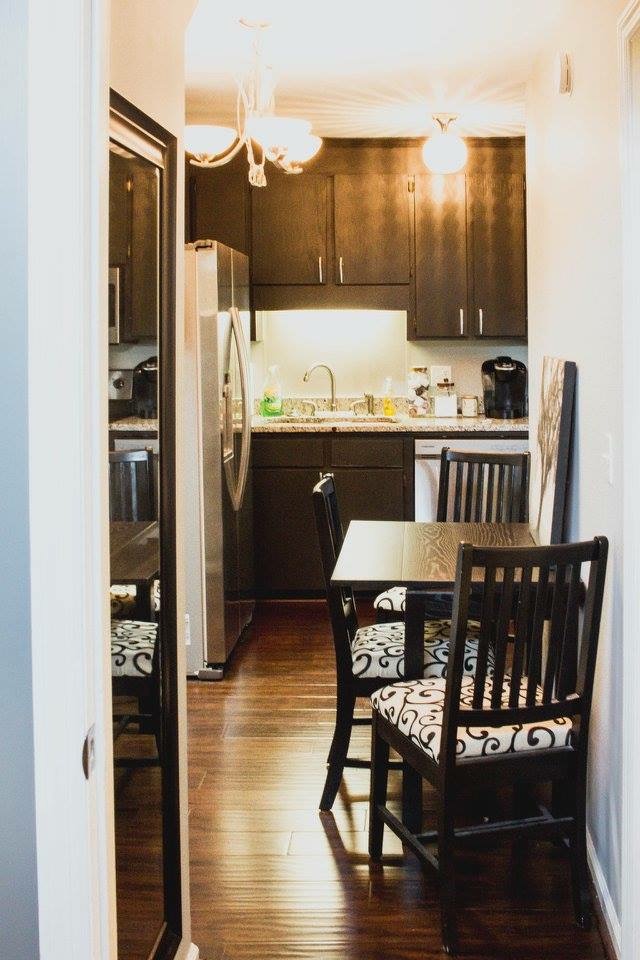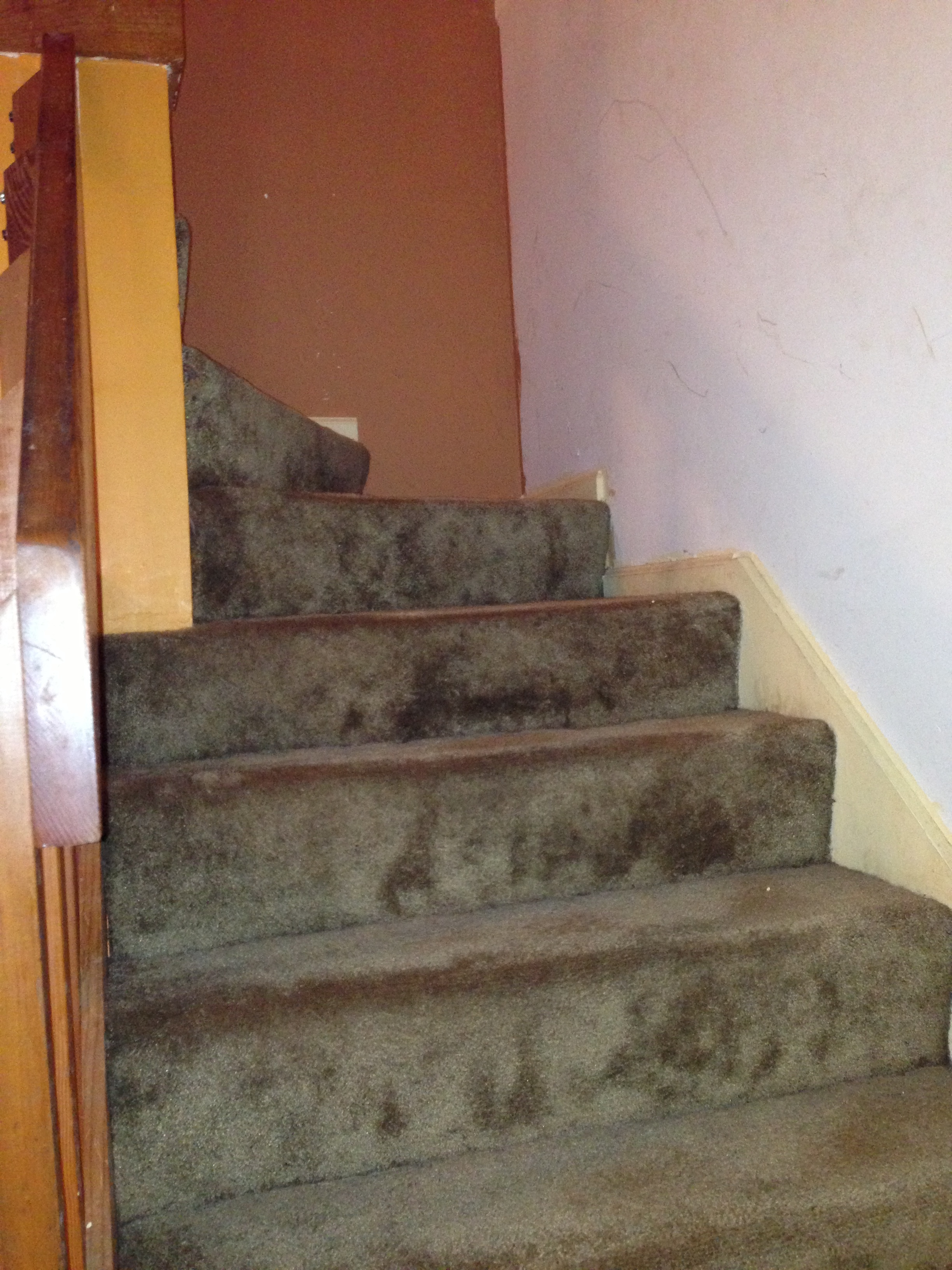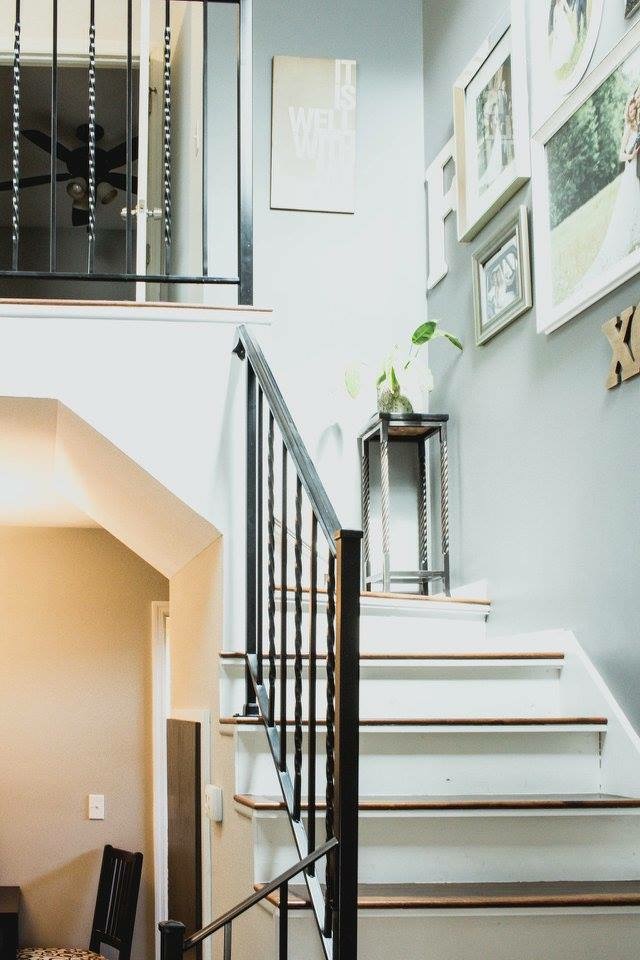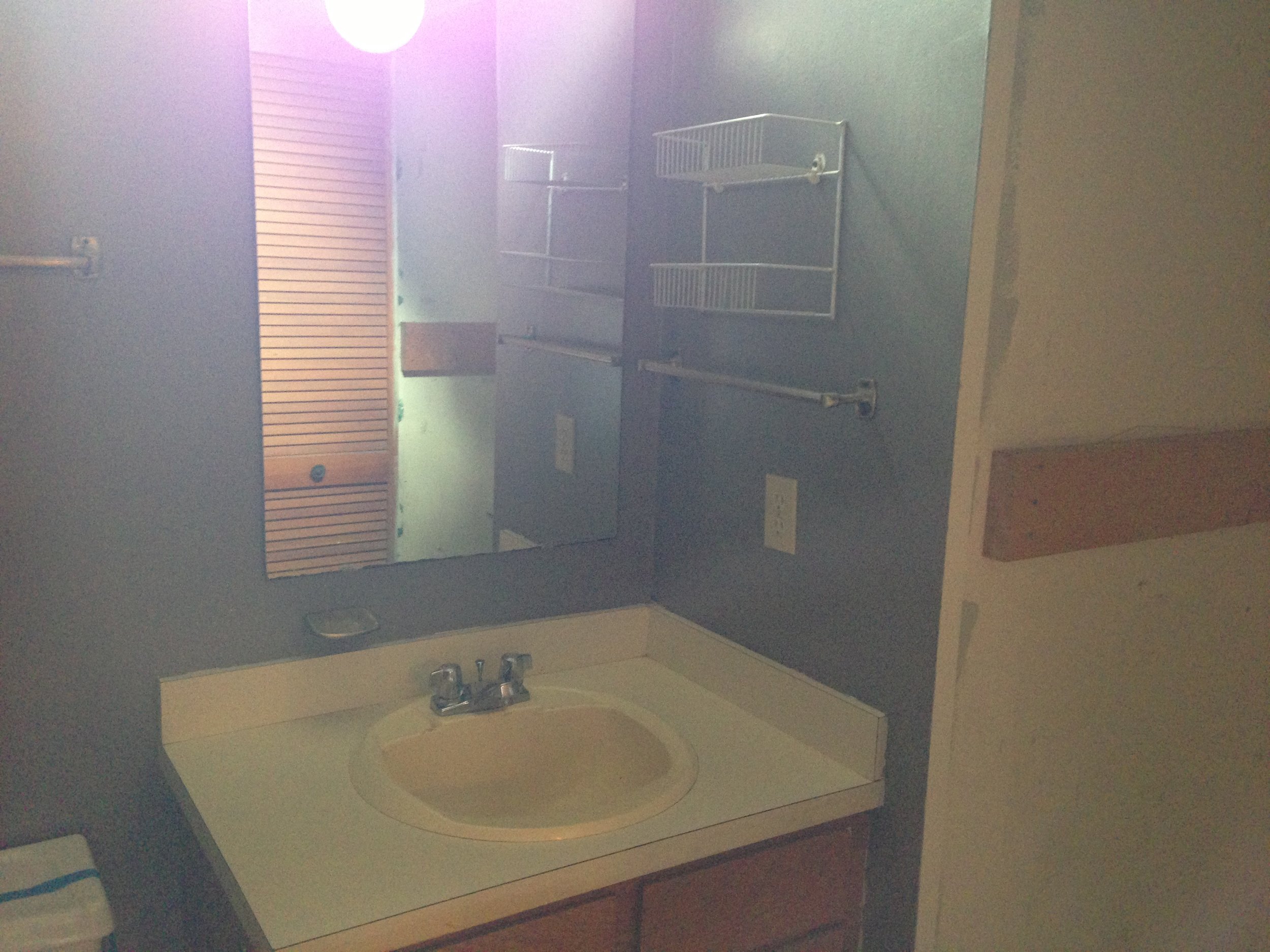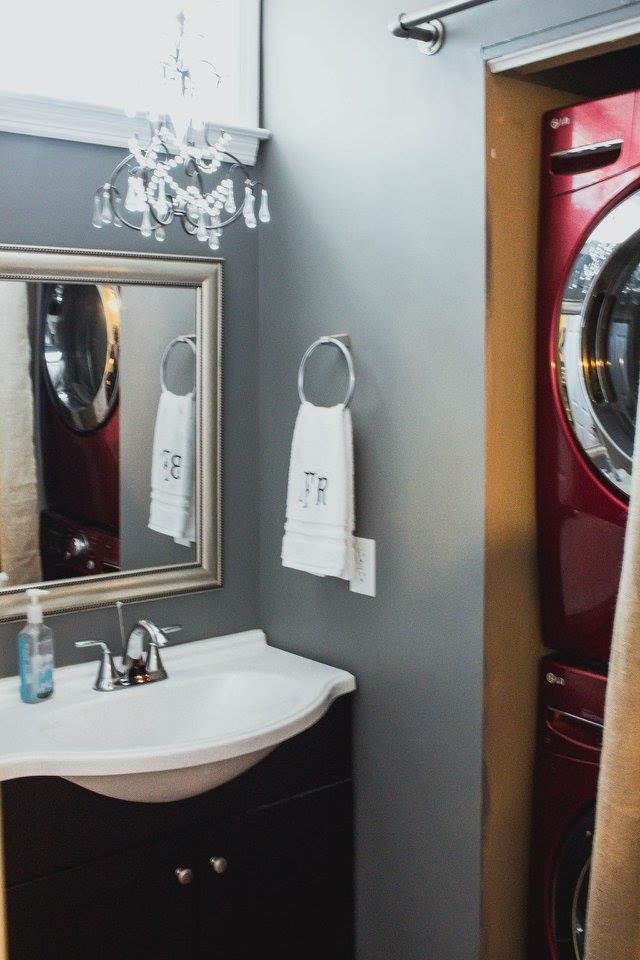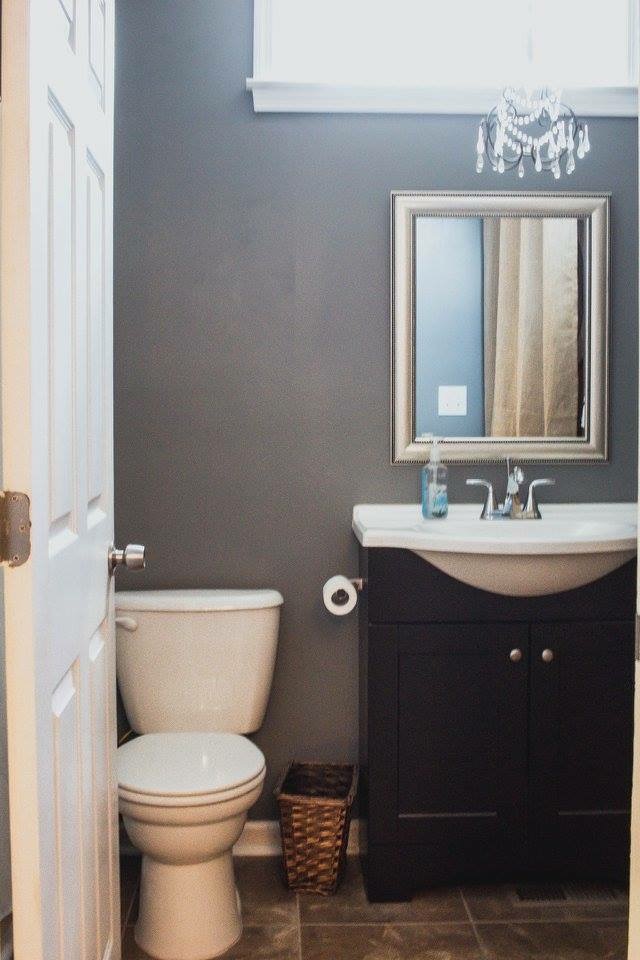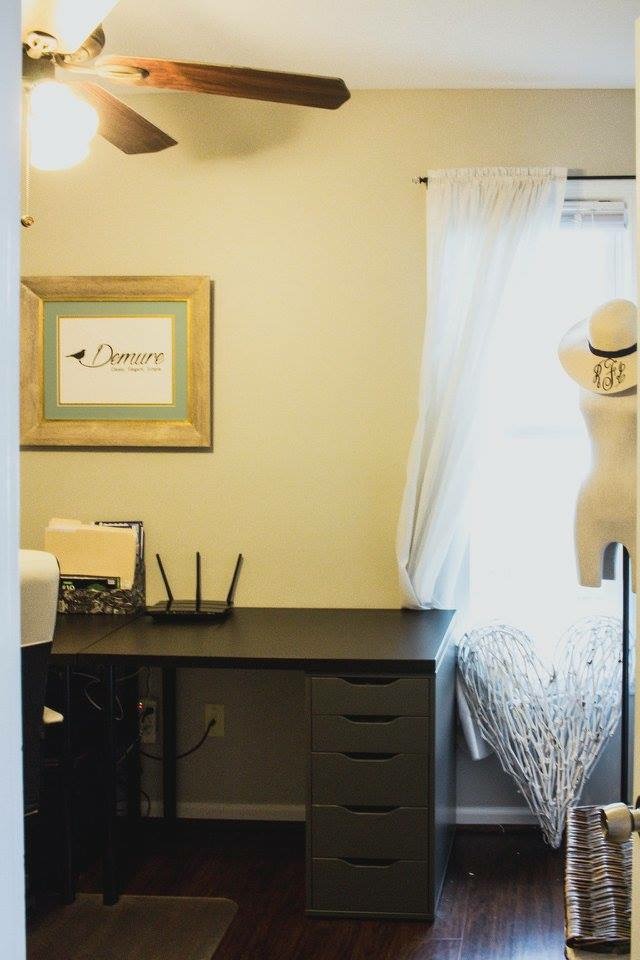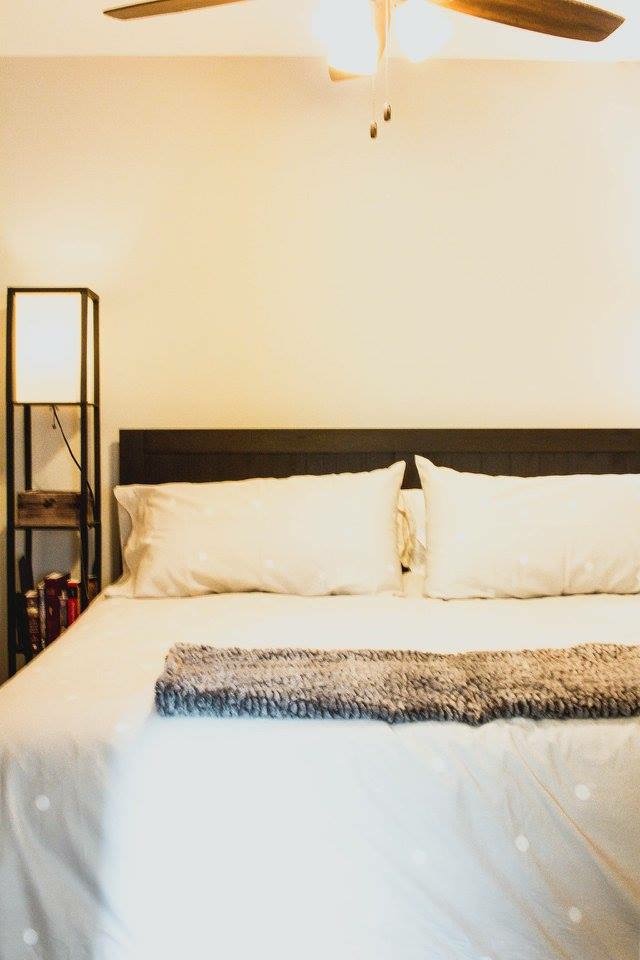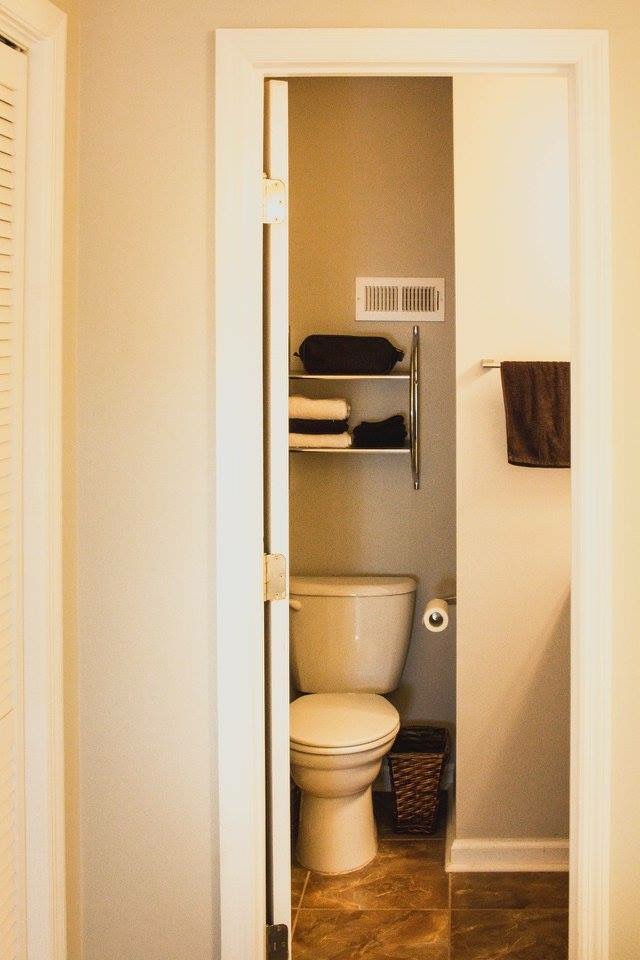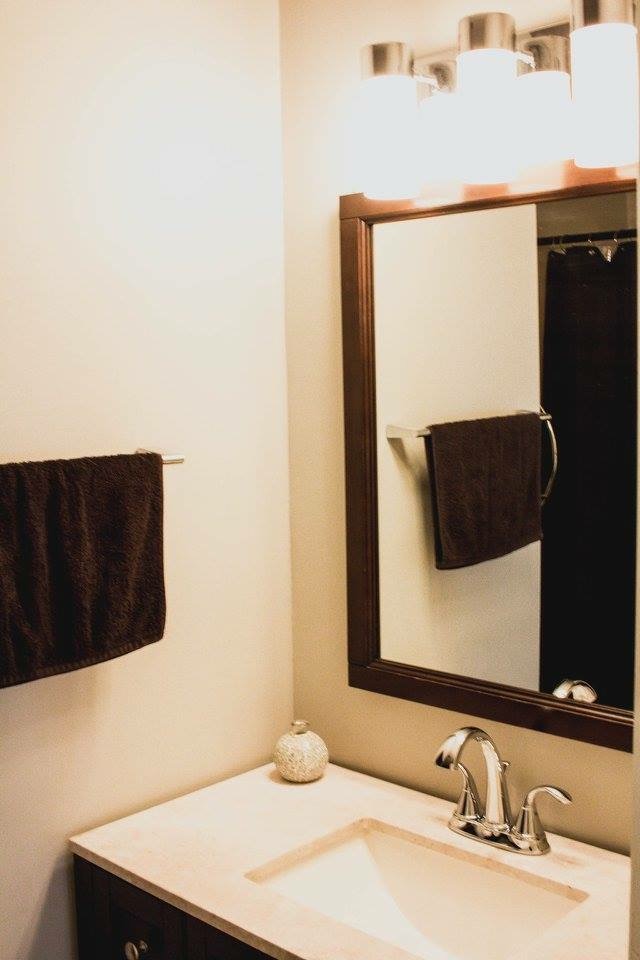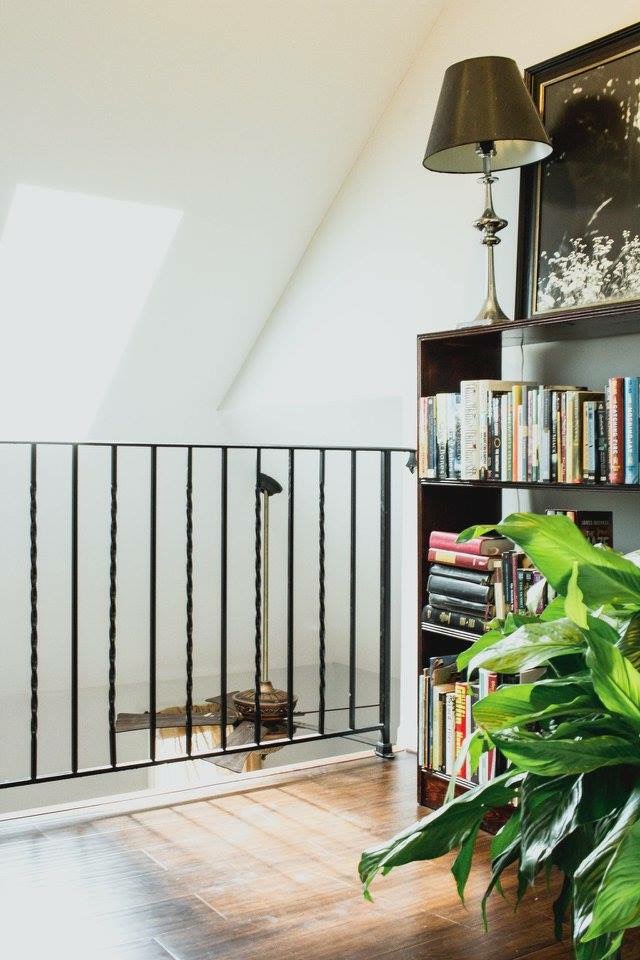 So now Blake and I see the value in taking a neglected house, putting in a little effort, and making it into a home that someone could love!! In fact, we love that home so much that even when we outgrew it and wanted to move on, we couldn't let it go!! We kept it as a rental after we bought our new house!
Our current house doesn't have NEARLY the same story... We actually paid more than list price for it because we ended up getting into a little bit of a bidding war with three other couples... And then we still proceeded to put $10K into it to update it a bit! Most investors would have considered that unwise, but for us, it was ok. We live in each of our properties before they become investment properties, and also we don't plan to sell it for a profit in the future... When we move on, we will keep this house as a rental too!
Checkout what we've done so far:
Current House: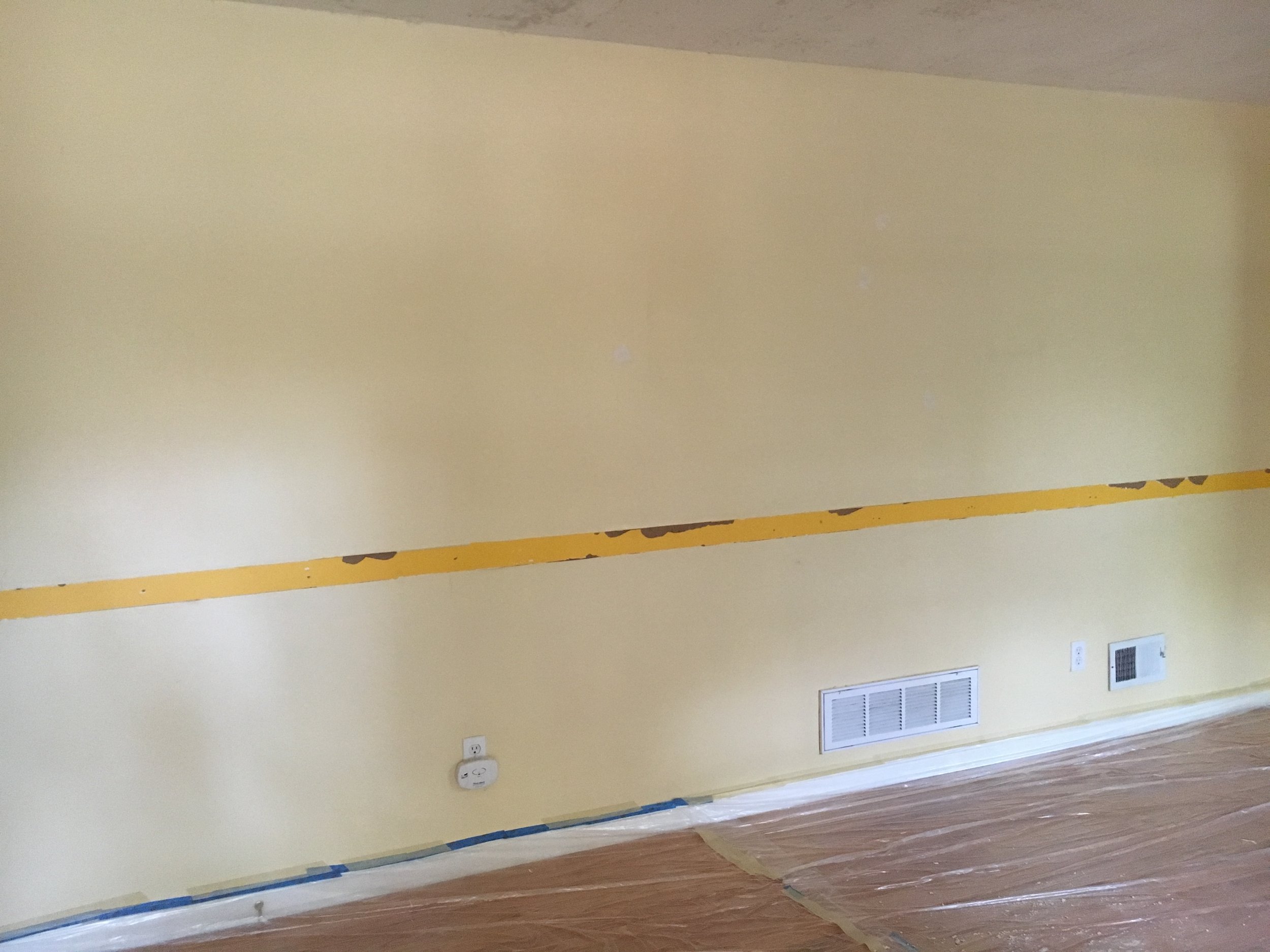 First, we scraped all of the popcorn off of the ceilings! IT WAS AWFUL!!! I don't think Blake will ever purchase another home with popcorn ceilings again!! But the final result is so refreshing!!!
Next, we had that VERY LARGE yellow wall, separating the formal living room from the den, removed. During the process, we also had the encased opening forming a dinning room removed as well. The main purpose for all of that was to create ONE LARGE living space!! Coming from a 900 sq/ft house, no amount of extra space would have been enough... So we created as large of a space as possible - open floor plan living is the millennial's dream, right!?
Some mid-reno pictures to help explain (all of these pictures were taken just inside the front door, and are in cronological orger):
Third, we completely renovated the 1970's guest bathroom! Although the white tile is SO much better than the pink or green you usually find in homes build right around or before this time, they still had to go!! We removed the tiles, replaced them with sheetrock, painted, and replaced the vanity, toilet, mirror, and light fixtures!!
This part was such a satisfying transformation for me!! I'm not sure why, but this was my favorite part for the renovation!!!
That mostly completed our projects as far as changing the physical structure of the house... I mean, we had plans to renovate the master bathroom, but we got a $9K quote for that one :( So, needless-to-say, that "little" project had to wait!!! As we were finishing up the bathroom, our furniture started to arrive... And that's when the work ended and the fun began... Getting to decorate a newly remodeled home is that absolute BEST part!!!
Coming from a 900 sq/ft house that was completely decked out with IKEA furniture, I was absolutely ignorant of the fact that when you order NICE furniture, it usually takes about 8-10 weeks to be delivered... Ouch... So we were without furniture for the entirety of the construction process (insert about 12 crying emojis here)! It ended up being a good thing in retrospect, because the couch I wanted wouldn't even have fit in the house with the wall still up, but it was hard for sure!!!
So, here's what I've done with the place so far:
This gallery wall was the very first thing I did!! I hung those pictures just a couple hours after that wall had been painted (and just a couple hours before we hosted small group at our house)... We had nothing else in the house other than our dining room rug, and somehow I convinced myself that adding some pictures to the wall would make it all better LOL!!!!
Please excuse the missing piece in the gallery... It is an "F" that happens to be painted the exact same color as the wall, so I took it down to paint it gray, but never ended up doing it because just a few days later we started rehabbing a piece of furniture (which I will talk about later). So, the gap will remain... And I'm taking bets on how long :) P.S. The walls in the majority of the house are painted "Alabaster" by Sherwin Williams (its in the white family, but has gold added to it in its recipe, so its not stark white)!
That dining room table was the first piece of furniture to be delivered... It was made by a friend locally! Its a farmhouse style table that I stained pretty dark to match the chairs I was dying to have!! They are from Ashley Furniture... And although its hard to tell from this picture, the grommets are what make them so fantastic!! You can find the standard chairs HERE and the captain's chairs HERE.
The next thing to be delivered was our couch!! We only had a love-seat sized couch at the "little house," so I went a little overboard with the whole sectional thing to give us more space to lounge around... It's 11' x 9' and Blake and I still ONLY USE ONE CUSHION on that whole thing... What a waste LOL! But I'm still so in love with it!! Its from Westelm - A.K.A the absolute best place on the face of the plant!! And its actually still available!! You can check it out HERE!
We got 2 of those cute mid-mod accent chairs from Target, actually! And they, too, are still available!! You can find them HERE!! There is some assembly required, but coming from someone who has put together a ton of furniture from IKEA, World Market, and Target... Target furniture is the easiest to put together and feels/looks the nicest once it is!!
That side table is from Pottery Barn, but I ended up not getting it once the living room finally came together... I loved it, and still do, but its a little more dressy than I ended up styling the house.
Our bedroom furniture was delivered next... The bed and dresser are both from Pottery Barn! I stalked these pieces for weeks because they were so expensive!! From the tiny corner of the dresser you can see in this picture, it is completely mirrored, and was originally $999 because of it! I worked with a fantastic interior designer at the South Park Mall location who kept me updated on sales, and I was able to get both pieces 25% off at their Friends & Family event thanks to her!! This bed is called the "Big Daddy's Antiques Reclaimed Wood" bed LOL!!!! Its a platform bed so we did 't have to get a box spring, which I liked!! And I'm still just so in love with it now as I was the day I bought it!!! You can find it HERE, and the dresser HERE! Both are still full price, even after a year, so definitely wait until August/September for their Friends & Family event to come back around if you're interested in them!!!
We added our bedside tables to the mix 6 months later! They are from Target, but are not longer available... Blake made our curtain rods from metal pipe, our curtains are from Bed Bath & Beyond HERE (I got them a little long so they pool on the floor a little), and so is my comforter! My exact one is sold out in all sizes except Twin, but Kate Spade has a lot of other super cute choices HERE!
This is our guest room! It is painted my favorite light gray color by Sherwin Williams - Stone Isle!! As you can see from the photos from our first house, this isn't the first time I've used this color, and it won't be the last - it truly is my favorite!!
The guest bed is from Crate & Barrel! I searched long and hard for the PERFECT wrought iron bed... And believe it or not, this one was the best looking AND THE CHEAPEST!! Those two qualities rarely go hand-in-hand, so I am SO PROUD of this find!! And OMG its still available too!!! You can find this beauty HERE!! This bed also has my favorite mattress on it! If you like a really firm memory foam mattress, crazily enough, you have to get THIS ONE from IKEA! This is the second time I've purchased this mattress from them and I would still buy another one!! The nightstand that you can't see in this pic, is from World Market, but you should check it out HERE - its real marble people!! The trunk at the foot of the bed is my favorite piece in this room - its Blake's grandmother's traveling trunk from when she was young... Such a gorgeous antique piece that I'm so grateful Blake's mom let me have!!!
The last "big furniture" item we've added to our decor is this awesome dinning room buffet that we're really using as a bar LOL!! This is the piece that we rehabbed just recently... We found it at a local thrift store, and I think it might have been the bottom or top half of one of those larger-than-life china cabinets that the generation before me liked to have... But we only bought the one half, removed the fancy molding, painted it with chalk paint, distressed it, changed the cabinet pulls, and added a piece of granite to the top!! If ANYONE (even one person) would like to know the finer details of how we did it, just comment below and I will do a full tutorial!
Just a few of my other random favorite house details:
I bought this picture to go on our mantle over a year before we even had a mantle... Its my all time favorite picture of Blake and I!! A wedding picture that was actually taken for our 2 year wedding anniversary!
This little corner of the house... Its my favorite little nook... But just to look at though, I mean, I've never actually used it LOL! That lamp came from the "little house" and it was the piece that this house's decor was designed around... A little rustic, a little industrial - my favorite combo... The tree came from my work, I mentioned the chair before, and that accent table is from World Market - HERE - and we also got the coffee table and sofa table (used as our entertainment center) to match!
And then this towel rack is another item I purchased before even moving into this house because I knew I wanted it so badly... So the rest of the decor in this bathroom was purchased to complement this piece!! It is handmade with tons of love by a Christian couple who love God so much... I have enjoyed having their piece in my home and think of them often when I see it!! And I will definitely purchase from them again!!! Please check them out HERE
This is the 3rd and last color in our house - its called "Mark Twain." It is not a Sherwin Williams color, so we had them color match it... But if you would like me to find out the original manufacturer, I totally will, just let me know!!
So, I guess that's all for now... I don't know what else y'all are interested in seeing or knowing... But if I didn't cover something that you'd like to know, please just let me know in a comment below and I can definitely do a follow up post!! I really enjoy fixing up a house - painting, and decorating it!! Seeing the transformation just brings me such joy!! This house is much bigger than the first, so the work is taking a lot longer this time around... So many of our walls are still bare (paint but no artwork), so even a few months from now I would have so much more to show you!! I'm happy with what we've accomplished so far, but making a house a home is never really finished is it!? I hope you like what you've seen (although I know the photography didn't do it much justice... LOL Blake is the better photographer)!
Y'all have a great rest of your weekend!!
XOXO - Rachel