Welcome to MY Augusta
I've really enjoyed living here for the last year or so… The food scene is growing and Blake & I are major foodies, and then after all, Augusta is the home of The Masters. Plus, with the creation of our little Augusta Blogger Babes "club," I have gotten to experience more and more of this amazing little town… So, for all my local Babes, I want to share what I love with you: Adventures, Beauty, Food, and Fashion…
Do you need an exciting date night, a fun tactile outing with the kids, or just for a creative outlet for yourself… Well, this is a place you need to experience! Go and paint some pottery!! Its different from your usual same-old, same-old outing, you can interact and chat while doing it, its not too expensive, and you get to keep what you made forever :)
Have you ever done an escape room!? I think the brain workout in fun!! And this one in Aiken isn't a chain… Its owned by a husband and wife, and they come up with the rooms, puzzles, tricks, and thrills THEMSELVES!!! So, if you're going to go to one (there are like 5 in our area), you should make the drive to this one!! #shopsmall #shoplocal
Do you love home decor? Do you love working with your hands!? Then you'll absolutely love AR Workshop!! They are actually country-wide, but this is our local one :) I hand-knitted a chunky knit blanket on my evening at AR, but there is so much more to do… Decorative trays, signs galore, jewelry, shelves… They teach you how to make SO MUCH, and provide all the materials so you have have a relaxing evening out with your friends, making stuff by hand!! Click below to see all they have to offer!!
You have to meet my girl Holly Mae. She is so talented, freaking hilarious, makes great conversation when you're in her chair, and her prices are so dang good!!! And check out this adorable up-do she did for me for a photoshoot… And before you say, "that's just a ponytail"… You need to check out my inspiration on champagneandchanel.com - Holly nailed it!!
If you need the most amazing color of your life, you need to go to DJ & Co… They are a Redken Elite Salon and their color skills are absolutely unmatched!! It may be a little pricey, but what limit would you put on getting the hair of your dreams!?
This was my first spray tan experience, and I know I will never go anywhere else!! It's not a franchise, so its truly supporting LOCAL! The owner is SO SWEET, and is a total boss-babe at the same time! Her shop was cute and clean, she didn't make me feel dumb when I asked lame "first-timer" things, and my tan lasted for 6 days! Please check this "real people, real ingredients, fake tans," tanning studio out!!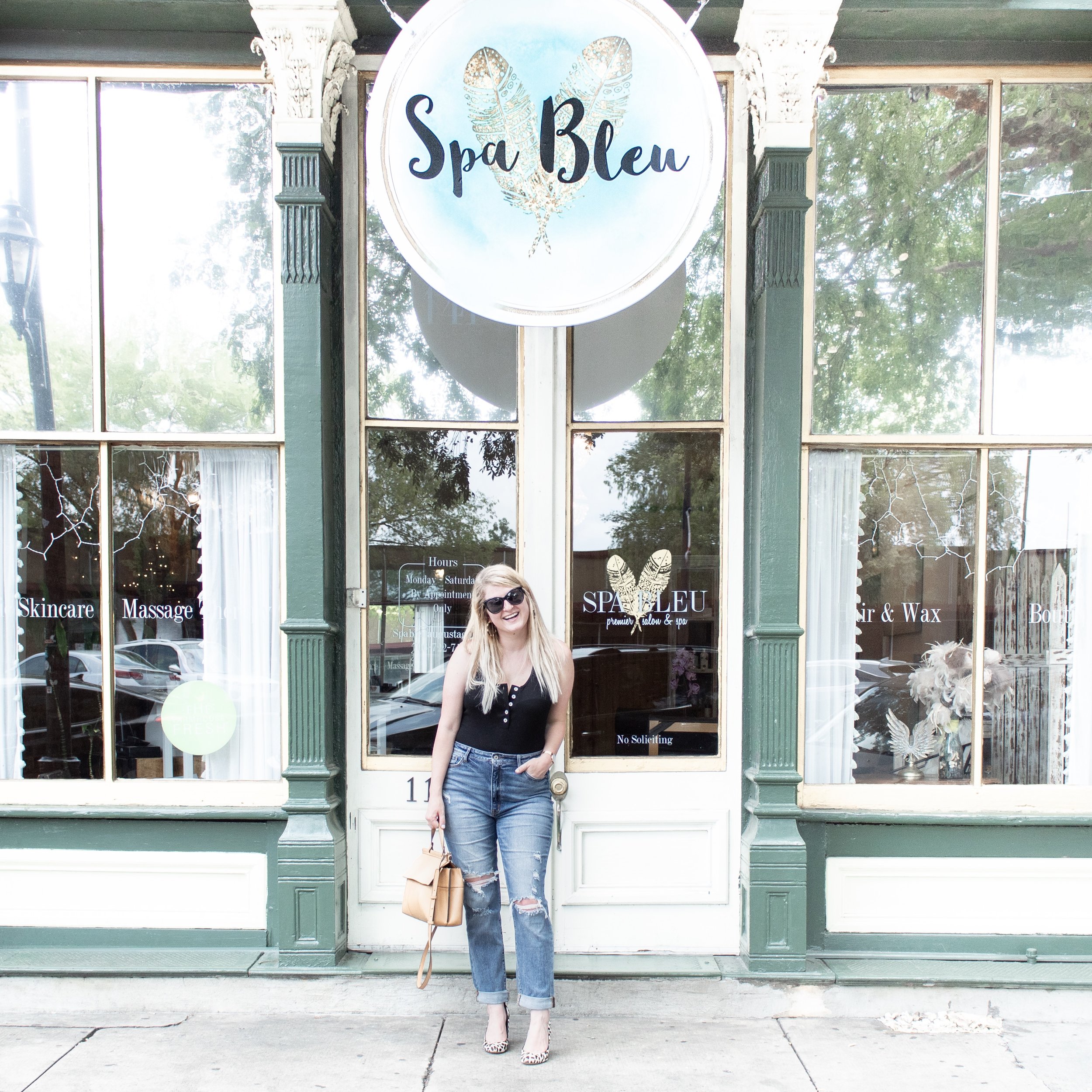 I hadn't had a facial in 4 years when the sweet owner of Spa Bleu invited me in… By the end of our 2 hours, Mirenda had waxed and tinted my eyebrows, given me a facial including extractions, and sent me home with a new skin care routine to help with my super oily t-zone and zitty flare-ups!! Her super sweet personality, combined with customer service like that, her spa will absolutely become my go-to ME-day spot! Not to mention that the brow tint alone changed my entire outlook on how I felt about myself without makeup on… The semi-permanent color defined my face enough to give me the confidence to not always have to have some on!!
Abel Brown is single-handedly responsible for me liking oysters :) Their Oyster Rockefeller is absolutely AMAZING and totally converted me into an oyster eater!! And they also serve one of my all-time favorite cocktails, the Tea Hive! Its one of Augusta's fine dinning spots, so the price is a little $$, but totally worth every penny! Plus, they have a happy hour for deal seekers ;)
My favorite jewelry maker of all time!! The owner's name is Shelby, and we have become friends since I found her little shop on Instagram!! I LOVE to support local, but not only that, her earrings are actually TO-DIE-FOR!! You HAVE to follow and support her :)
I've only shopped there 3 times so far, but this henley may be my favorite purchase I've made in a local boutique thus far!! There are 2 locations, and the one of Fury's Ferry is my favorite! Their apparel is great, but so is their gifts, jewelry, and local vendor selection! Check them out!!
I just visited this little boutique a couple of days ago for the first time since living here! Everything was so cute, and super trendy!! Please note though, the owner Leslie, is only open very limited hours, so call before you go by: 803-426-9922. The best part about her little place is that she only carries a few of each item, so you won't run into anyone that's wearing the same thing as you, LOL!!