I fully believe you can make or break an outfit with the shoes...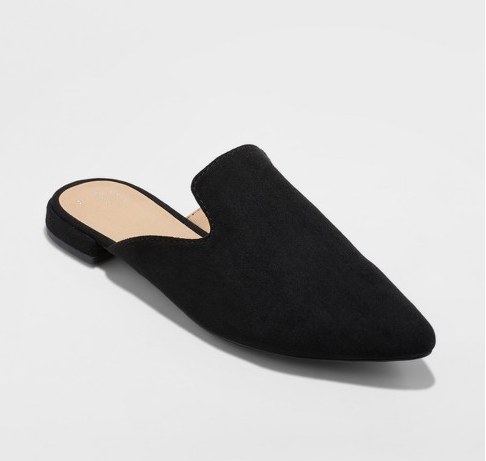 These super classy black mules are the least expensive of the new shoes I've gotten. The black makes them highly versatile and super classy. They were a great first pair of mules for me because they stay on a lot easier than, I came to find out, most other slides do... They also come up a lot higher on the foot, so I love that they hide my super pale feet LOL!!!! They are only $22.99 and are a must have in my opinion!! In fact, they are the most shopped item that I have on my blog!! They fit true to size AND also come in a light pink/blush color!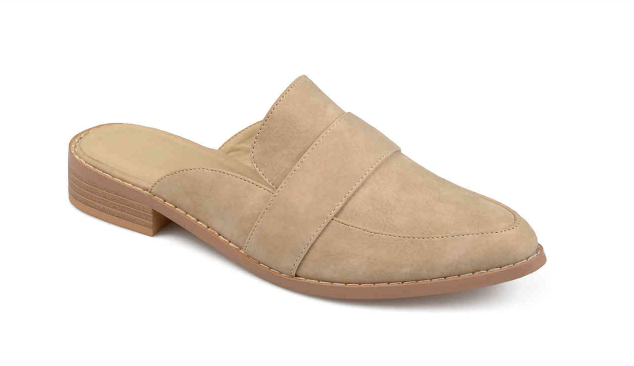 These mules are also perfect for the new slip-on trend! If you've never owned mules before, you definitely need to have a pair this year because they are wildly popular right now!! The nude color allows them to go with ANYTHING, so they are highly versatile and very much worth their $39.99 price tag!! The leather is a little stiff at first, so I got a blister on my pinky toes the first time I wore them, but I waited a week before wearing them again and then they were fine!! And I wear them 3 times a week now!! They fit true to size.
These are the best tennis shoes I've ever owned: They are the exact same shoe, just in different color options! I've purchased them both and they also come in a gray/white combo. They fit true to size and I am still able to always wear socks with them! They are my favorite workout companions & I have really enjoyed owning them!!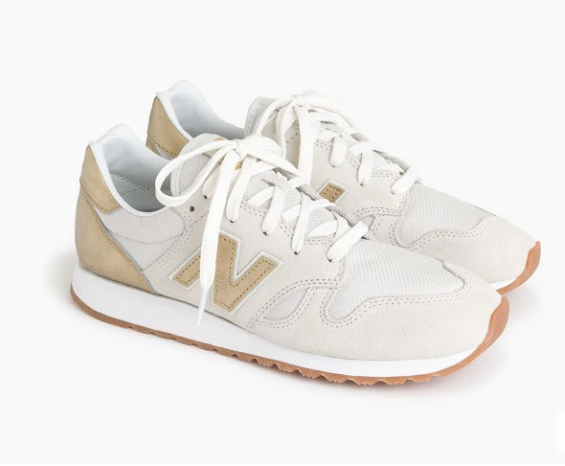 They are a little more pricey, but quality tennis shoes always are... They are $85 each, but I'll have them forever... I mean, seriously, my feet haven't changed size in a decade LOL! Just watch for a good sale, and snatch them up!!!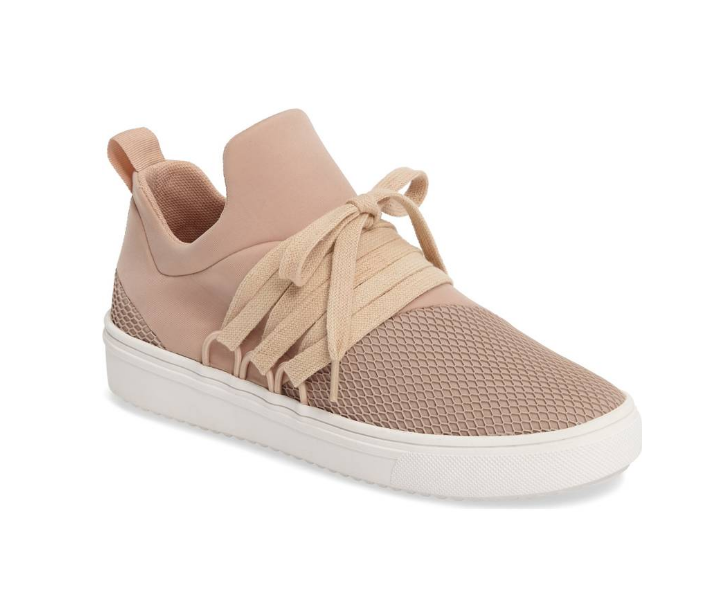 I've been calling these my "gangster pink shoes" to Blake since I ordered them! LOL, I think its the high tongue that brings that name to mind... I've worn these babies twice now! The first time was out to a casual dinner and the second was to the gym! I've really enjoyed having them for my new workout schedule (A.K.A. I just joined a gym again after a year and a half long hiatus). Cute workout gear is SO MOTIVATING!!! They are under $40 and I ordered my regular size :) And I have no complaints!! They are so comfy - they feel like they are hugging my feet without being too tight. I wore them with socks & they fit great! Plus, there was no break-in period!! Two thumbs up for these tennis shoes!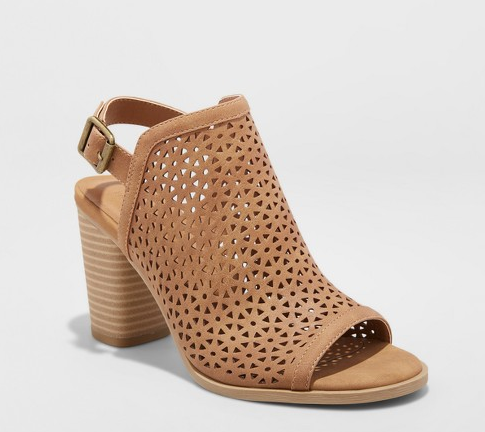 I think mother nature was laughing at me after I purchased these shoes, because I wore them the next day to work (all day), and then the very next morning I woke up to 47 degrees. So, I haven't even been able to wear them since :( I LOVE the thick block heel, and the leather is so soft!! The very first time I wore them was for about 9 hours straight... So you can trust me when I say they are SUPER COMFORTABLE!!! They are only $32.99 and I bought a half size down!
Ok, so... Apparently I have a slight obsession with nude shoes... But they are the perfect neutral & can go with anything and everything! Am I right!? How many nude shoes is too many!?
I've just worn these babies 2 days in a row... The first day was for only 4 hours, but the second day was for just over 12 hours!! And my final verdict is... That they are so AMAZING!! The heel height is great, the leather is SO SOFT, they fit true to size, and they will go with ANYTHING! Dress them up with a fancy date night dress, or dress them down with distressed denim and a t-shirt... They are fabulous!!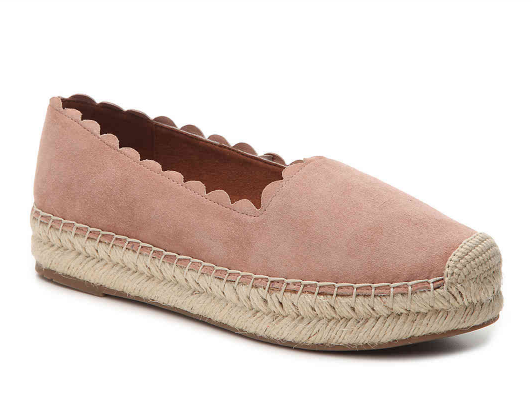 I'm a huge fan of this new trend! These particular espadrille sneakers are so cute with the 1" espadrille sole, the blush color, and the scalloped edge! They were comfortable from the start (no break-in period)! They are a fabulous price - coming in at just under $40!! The fit is a little big - I sized down a half of a size. These qualify for free shipping, but if you still want them immediately, remember you can buy online and pick-up in store, and I can still have the credit for the sale :) Thanks babes!
I've gotten several pairs of shoes between the pink espadrilles above and these yellow bow mules, but I skipped ahead to reviewing these because I'm afraid they'll sell out! They are only $21 (and I have a 15% off coupon code for them: DEMURE15). So, they are just under $18, and are sold at one of my favorite online boutiques, Revie. They run a little small, so make sure you size up a half size! They are a soft suede material, the yellow is so fun, the leather isn't rigid, and the bow/pointy-toed combo is so perfect!! The soles are a little thin (I mean, they're only $18), but were still perfectly fine for all day wear. No break-in period. A wonderful purchase for the price!!! And a great way to support small business :)
The perfect Summer wedges, if I do say so myself!! They're almost as popular as those cognac Steve MAdden wedges from last Summer LOL! They are a great neutral, white/cream color that goes with just about anything!! There was no break-in period - A.K.A, no blisters from the start! The fit true to size ( I got my usual 7.5)! Your "big-toe-bone" (that turns into bunions on some people) fits right in between the 2 lower straps so there is 0 pain!! But, please note, they made me a full 3 inches taller, LOL!!! If you're a tall girl, who's close in height to your significant other already, then these shoes may not be right for you... At $80, they are probably on the upper end of your shoe budget, so make sure you become apart of the store's rewards program so you can get $10 off ;)
These are super fun and very CHIC slide-ons! At their $23 price point, they are the perfect addition at EVERY wardrobe!! I bought my usual size, and they fit just fine! The leather upper comes farther up on my foot than other mules, so it did rub the top of my foot a little hard the first time I wore them, but once the shoe was creased by my natural walking movement, they were finally comfortable! So, my advice would be to wear them around the house the first time to break them in! Other than that, they were so great!! I've worn them to work 3 times this week LOL!!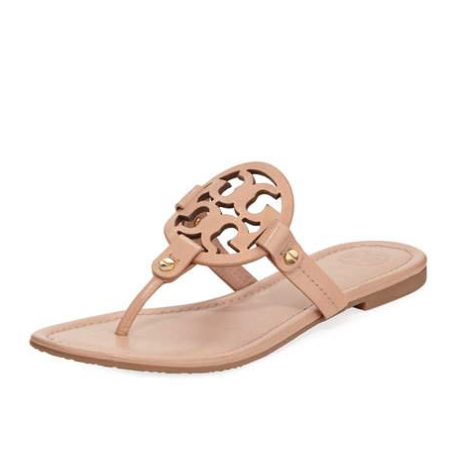 These beauties are the IT-shoe of this Summer. They are pretty pricey, but worth the money if, A. you love Tory Burch anything, or B. you have a desire to have what's on trend. I promise, you would be paying for quality! My thoughts on these are that they go with EVERYTHING, fit try to size, and are very comfortable (no break-in period, and are good for all day wear). But, on the other hand, they get dirty really easily and are not made for a wide foot... I've only had mine for 2 months and there is already a faint black foot indention on them... That makes me sad, but I'd still buy them again LOL! And as far as the "wide foot" thing - I have a friend with wide feet who ended up returning hers because she didn't like that the sides of her feet hung over the edge of the shoe. Please keep that in mind :)
These cute white sandals are the perfect $20 dupes for the $80 Steve Madden "IT" sandals this Summer! They are amazing for the price - the leather is sewn well, and the soles aren't too thin! I usually wear a 7.5 and I ordered the 7.5. The white strap was a little tight at first, but with 5 days of wear or so, they fit so much more comfortably now! I think they're a great buy!! So much so that I've just ordered them in the cognac color as well :) You can't go wrong with these!!
So… Please note that I've only worn these boots twice, once was around the house for an hour or so the day I got them, and the other was to shoot the outfit for the blog. I haven't worn them for an extended period of time, but boots aren't really something you have to, to know, right? They are comfortable, they don't rub in any weird places even without socks, they fit true to size (I got my usual 7.5), they have a great color that will go with everything, seem to be made very well, the heel is just the right height, they are easy to walk in, the cutout detail adds a little something extra to the style, and the price is outstanding!! The color is called "gray" online, but I would describe them as "taupe." I would absolutely buy these again!
These booties may be the most perfect ones I've ever owned. The toe is the perfect amount of pointy, the ankle is the perfect height, the heel is the perfect thickness, and the color is the perfect gray! They don't come in half sizes, so I sized up to the 8, from my usual 7.5. The fit is just a little loose, but its nice because I can slip them on and off without having to unzip them!! They come in 2 other colors and I've purchased them all, LOL! At the outstanding price of only $36, there's no reason not to buy them!! P.S. No blisters after wearing them for 8+ hours on the first day I got them!!
I search for so long, and so hard for the perfect pair of camel colored boots each year… They are the pair of shoes I will spend the majority of my Fall and Winter in. They are the shoes I will reach for more than any other! Because they are so important to me, I'm so picky about them, and I usually end up having to go with a more expensive pair. This year was no exception, but I'm so stinking happy with the pair I've chosen!!!!! These Michael Kors beauties are to die for! I went with the size 8 for these, because, you know… Socks are a must in the Winter:) I'm in love with the fit, the color, the suede, the heel height, the amount of slouch, and the fact that there's no zipper! There's nothing about these boots that I would change! I know they're a little pricey, but I promise they are worth every penny!! I've linked them from Nordstrom for those of you that may have Nordstrom cash to lessen the blow to your bank account. You won't regret these!
These are my first pair of over the knee boots. I believe everyone should have a pair now that they are so on trend, so I decided to try out a few pair and tell y'all about my favorite pick!! I went with black so that I could get the most wear out of them. I couldn't find a camel colored pair that wasn't over $100, and since I've already splurged on one pair of camel colored boots this year, I figured I should find an alternative option! These are suede, and have very little structure to them… The have an 8 in zipper at the inner ankle (to help tuck your pants'/leggings in), and then just tie above the knee to keep them up. If I'm bare legged, they slouch when I walk, but if I'm wearing pants, they stay up pretty well! I got the 7.5 (my usual size). The heel looks higher than it really is. They are easy to walk in (though, I've had a lot of practice walking in heels). The price is what got me the most, though! Boots seem to get more and more expensive each year, but these are only $80, and this company sends out a lot of coupons, so you should definitely be able to get them for even less! They come in a gray color that I also liked! Check these out!!
These mid-calf booties have been so fun to wear! I feel like that make my calves look so skinny, LOL, since the shafts are wider than most. The heels aren't too high, so they're good for all day wear! However, I must point out the discrepancy in sizing. I usually wear a 7.5, but I purchased an 8 in these. Even at a size 8, I can only wear very thin socks, and it still took 3 wears to stretch the leather enough to actually be comfortable in the width. If you would consider yourself to have "wide" feet, then these booties are definitely not for you! But, if you don't have shoe width issues, these booties are amazing! And SUCH a good price point for Michael Kors shoes!!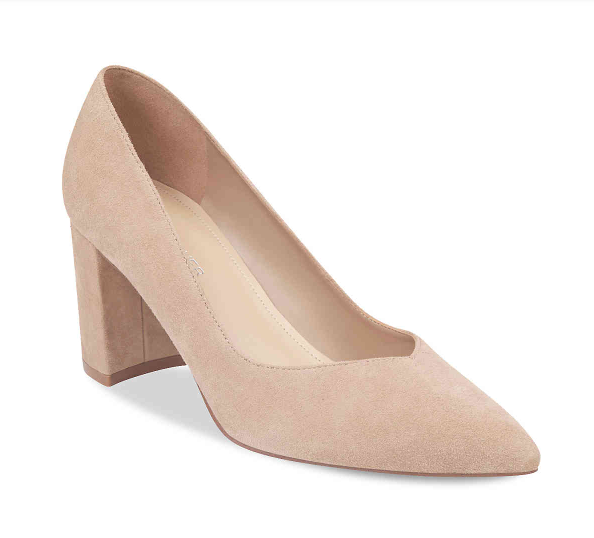 These are amazing. Period. I know that block heels aren't loved by everyone, but they are IN right now… So, if you're going to try it, these are worth trying it for!! At $59.95, they are also an INCREDIBLE price for Marc Fisher shoes, and are fabulous for that reason alone! The toe is perfectly pointy, the nude color is just right, the suede avoids damage (if you're a clumsy walker like myself), and they are very easy to walk in! I wore them for 8 hours the very first time I wore them, and they were so great!! Comfortable from the start!!! Perfect for work, perfect for a night out, and even perfect for just dressing up jeans and a t-shirt!! I love them, y'all!
I've been searching for the best leopard flats that I could find for about a month now… Each one I came across was too expensive, not my style, not quality enough, or even a strange color… But then, I came across these!! You all know I'm a little J Crew obsessed, so no surprise here that these came from the Factory! Their quality is fantastic, and the price isn't bad either!! The color is perfect, and they are a perfectly classy design! And trust me when I say that these are the best combo of all my requirements that I've found thus far!! However, we gotta talk about J Crew shoe sizing…. J Crew shoes are a bit narrow, so PLEASE NOTE - I always size UP to an 8 (from 7.5) for the width, and then add heel cushions in the heels so they don't slip! And, in my opinion, heel cushions always make shoes comfier anyway ;) I've linked my absolute favy heel cushions HERE! You will love these shoes, I promise!!
Quilted Faux Leather Sneaks
I bought these in my true size (7.5) and they fit great! There wasn't even a break-in period! I wore them out shopping and then to work on my first day having them and they were great the whole day!! They are cute, and casual, a little edgy, and def not boring with the quilted pattern detail… I don't wear them too often, but when I do, I get so many compliments!! And for only $24.99, they were such a STEAL!! They also come in 4 other colors: olive, gray, pink, and white!
These adorable leopard (cheetah) print sneakers are from a local boutique (Augusta, GA) called, The Swank Company. They have SO MANY cute things there, and one of my favorite items I've gotten from them are these shoes!!! They don't come in half sizes, so I couldn't get my usual 7.5, but I got the 7 instead, and they fit fine! So, size down a half size if you're between sizes! They did give me a small blister the first day I wore them, but after I broken them in that initial time, they were fine from then on!! They go with EVERYTHING and are only $30! If you want a pair, use the "shop" button below, which will lead you to their Instagram… DM, call, or email from there to order! They are super friendly and will help you with anything you need!
These are making me so ready for Summer! I'm loving wearing them with casual shirts and a straw hat, linen pants, paired with my straw purse, or other Summery pieces! They would actually be so great with your bathing suit and cover-up for the beach!! They fit absolutely true to size, and had no break-in period! They are super cheap, and are truly perfect for Summer! Get these babies!!
Y'all, these are to-die-for!! They are so cute for one…. But also, they are extremely comfortable, light-weight, not too high, and not too expensive! I feel like the ankle strap makes my legs look thin and toned too, LOL! The quality is also fantastic!! And we all know how popular animal print is right now ;) Plus, they are so easily dressed up with a dress, or dressed down with your favorite distressed denim and t-shirt! Check these beauties out!!
These are so cute!! The bows in the back are freaking adorable!! They fit true to size - I bought my usual 7.5. I did try on the 8 for clarity's sake, and the upper strap was way too loose. They are very light weight, and easy to walk in!! And at an under $50 price-point, they are a great buy! Especially because they will go with everything, and can be worn to work!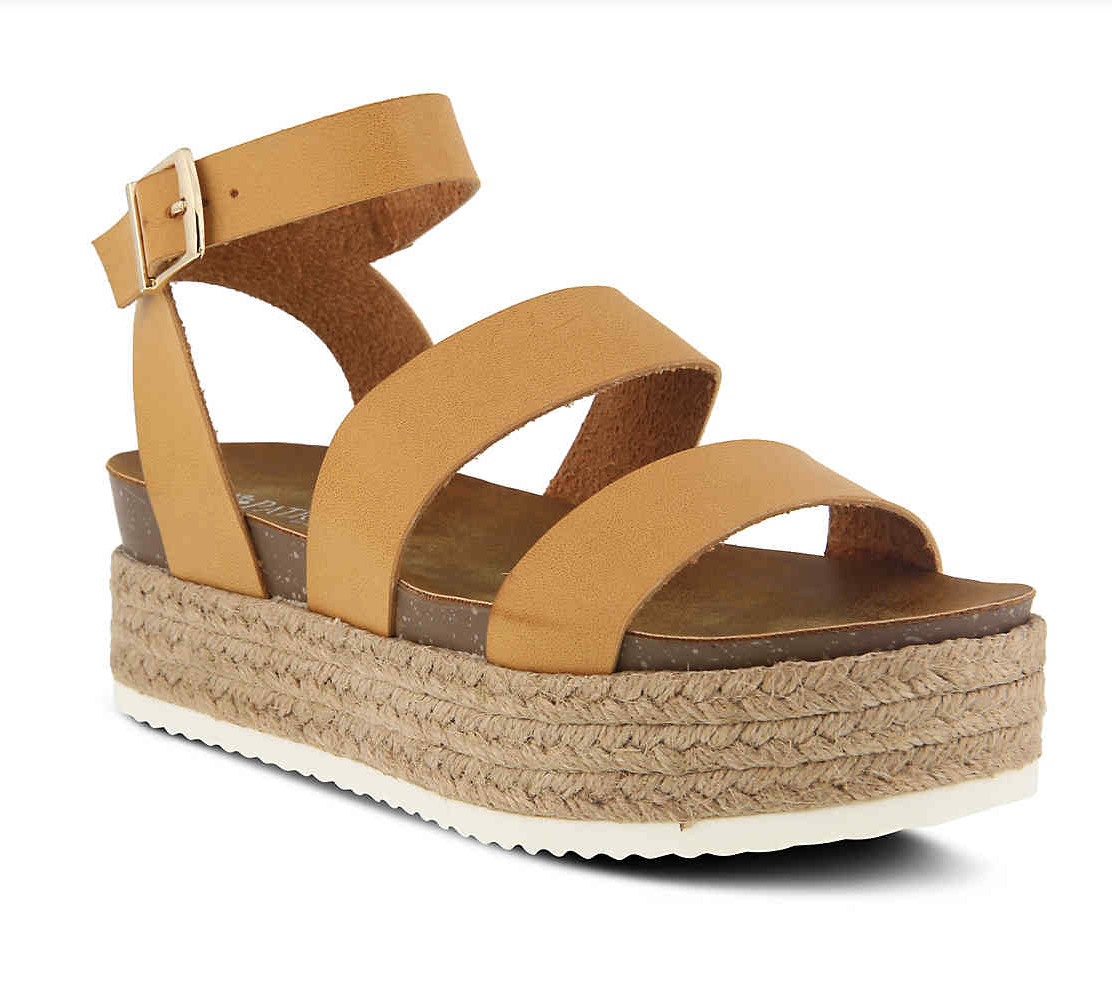 These are MY FAVORITE shoes I've purchased in a while!! I wear them several days a week!! There was absolutely no break-in period! They are amazing!! They are also very flattering for a simple sandal! I typically wear a size 7.5, but I got the 37 in these. They are under $50, so that makes them extra worth it!! You NEED these!!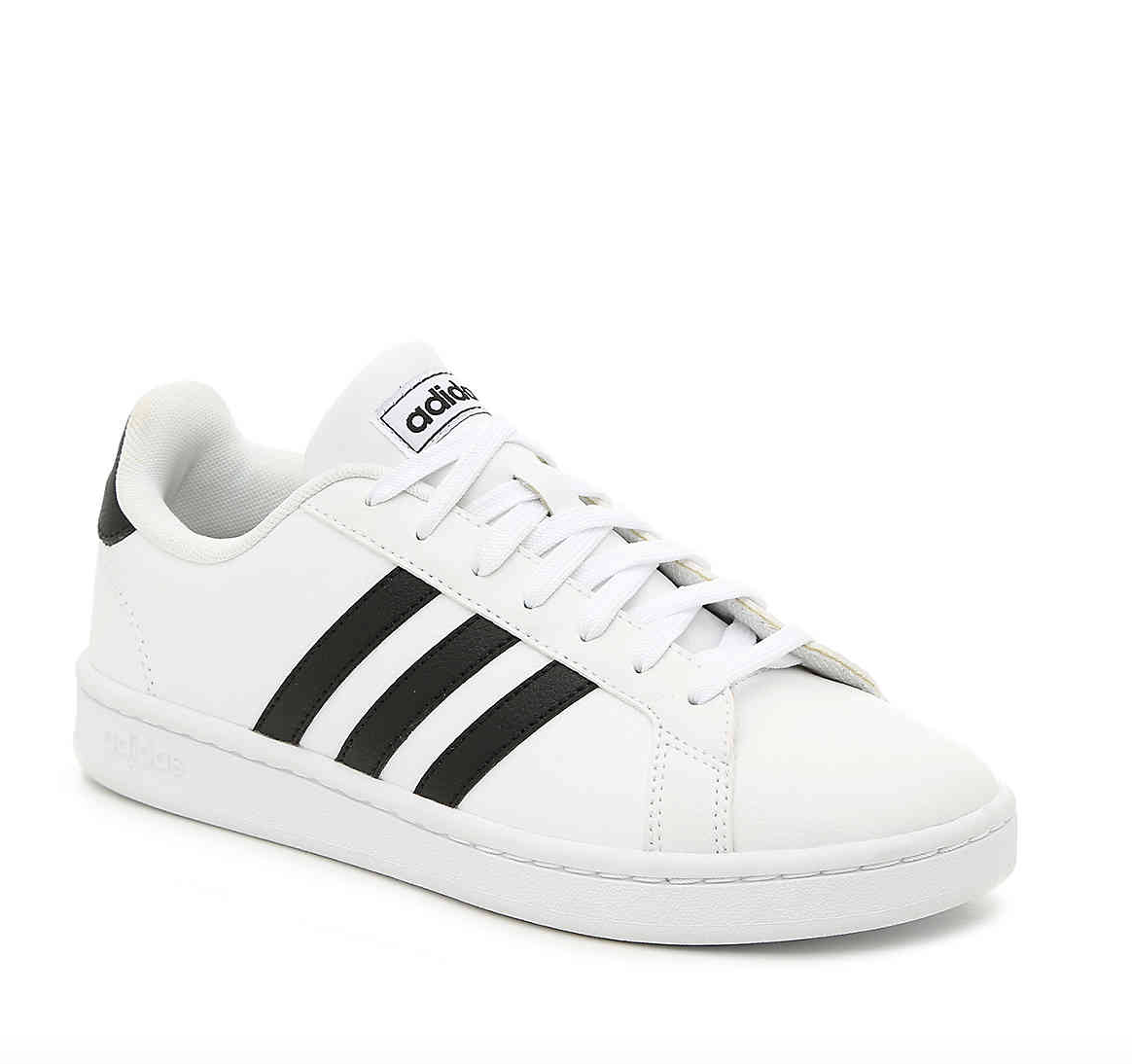 Trainers have been popular for a while now, and I finally jumped on the train! They are cute and comfortable without being bulky like regular tennis shoes. It's perfectly acceptable to wear them with jeans, or with dresses!! I will admit that I wish I had found a pair with navy stripes instead of black stripes… But never-the-less, I love these!! They are ultra comfy and fit true to size! I bought the 7.5, which is my normal size. They are under $60, and are absolutely worth it!! Check them out!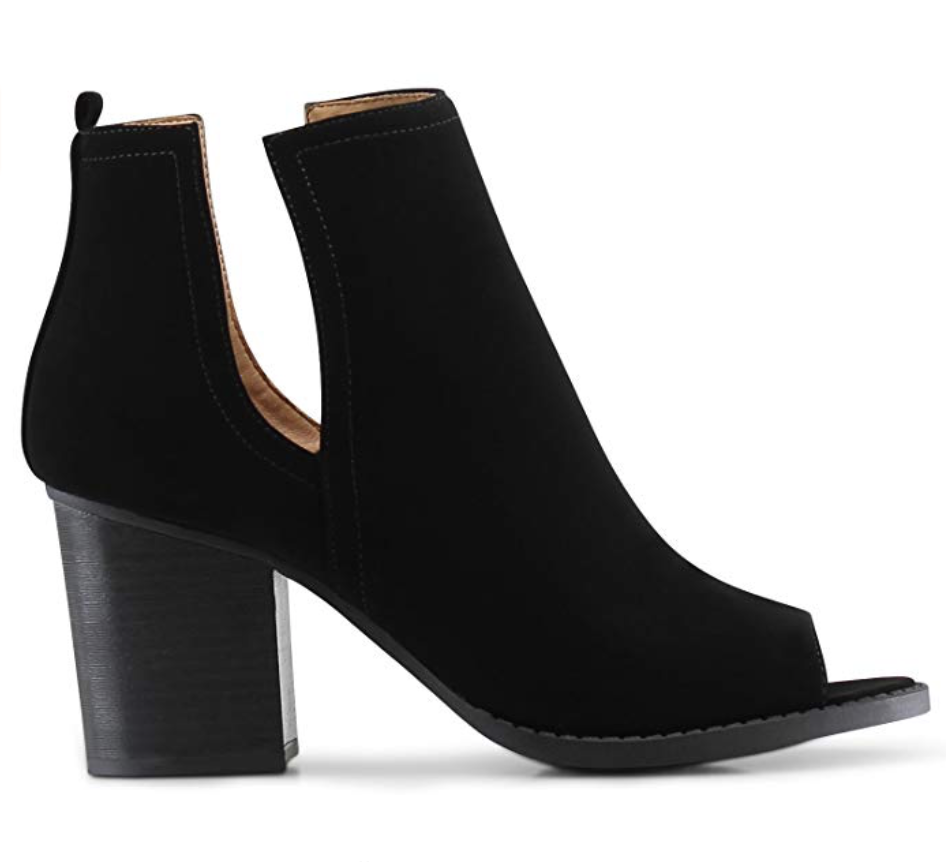 I've had these for over a month now! The heels aren't too high, so they are very comfortable to wear for long periods of time! They are suede, so they're good for Fall, but they are open toed, so they can be worn for Summer too! They are a great all-year-around shoe!! I bought the 8 in these, but I think the 7.5 would have been good too. I purchased a half size up based on the Amazon reviews, but I really do think my normal 7.5 would have been perfectly fine. They are under $40, and are great for any outfit. Preppy, boho, edgy… Dressed up or dressed down… They are a wonderful shoe!! Check these out!